One person uses furniture in five different ways!
The inflatable sofa can quickly become a spacious recliner, luxurious recliner, a queen-size bed or an absolutely perfect family room, guest room, dormitory or whatever you need an extra bed and/or a baby cot for rest.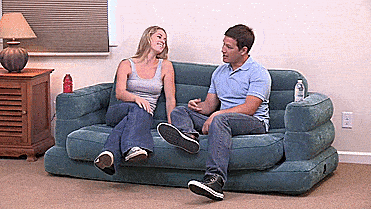 Easy to use
Inflatable sofas are the latest multifunctional furniture you need to have nearby. It looks good and can accommodate 3 people, if you want, you can instantly convert it into a bed. Just fold the bottom of the sofa into a bed, put in some pillows and blankets, and relax as needed. This inflatable sofa bed is a very comfortable, very comfortable sofa, recliner, armchair and folding bed, they all become one. Connect the jet-powered pump and inflate it into a full-size sofa that fits any room in your home in less than 3 minutes. When folded, it instantly becomes an incredibly comfortable air mattress. Or flip it over and you will have a recliner and recliner. The air lounge surrounds the suspended air technology to comfortably support your body in the air.
benefit
The inflatable sofa bed can be set up quickly and easily.
✅It only takes a few minutes to pull out the sofa bed completely.
✅The inflatable sofa bed/air bed is equipped with its own jet-powered pump, which can fully inflate it in 3 minutes.
✅Light enough to be transported to any part of the house.
✅In addition to being a comfortable sofa, an inflatable sofa/bed can easily become a comfortable bed or recliner.
Made of high-quality premium materials, it can be used for life.
Including electric air pump, repair kit and storage box.
✅Waterproof cover.
✅Very suitable for indoor use, travel and camping.